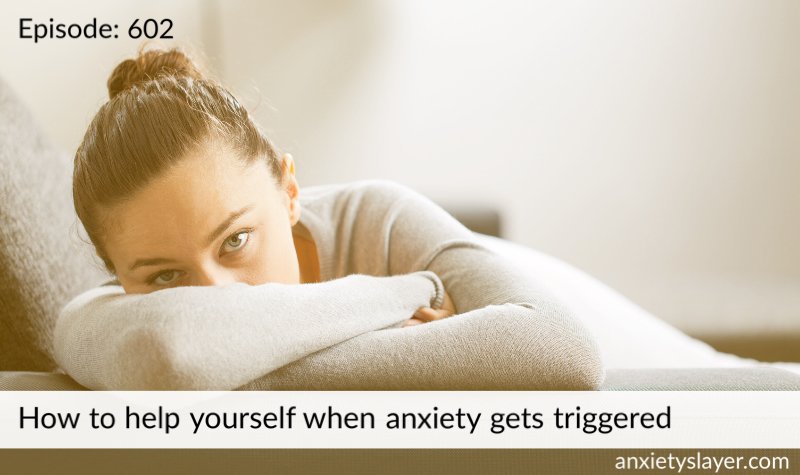 Introducing the Anxiety Slayer Summer Series. For the next 4 weeks, we're taking a summer break and queuing up your favorite episodes from our vast archives. This is a wonderful time to listen again or if you're new to Anxiety Slayer, you may be discovering these episodes for the first time.
This week on the Anxiety Slayer Summer Series we're talking about how you can support yourself when anxiety gets triggered.
SUBSCRIBE TO THE ANXIETY SLAYER PODCAST:
APPLE PODCASTS | STITCHER | PODBEAN | GOOGLE PODCASTS | SPOTIFY I TUNEIN
---

TODAY'S ANXIETY SLAYER PODCAST IS SPONSORED BY BETTERHELP.
Are stress and anxiety interfering with your happiness? Have you been considering seeing a therapist but not sure where to start? Betterhelp will assess your counseling needs and match you with your own licensed professional therapist so you can start getting the support you need online, in under 24 hours. Special offer for Anxiety Slayer listeners - get 10% off your first month at http://betterhelp.com/slayer
---
Notes from this week's episode:
When anxiety gets triggered, we can feel instantly overwhelmed and fearful that it's going to stay this way forever. Often we are so caught up in anxiety that we forget there are things we can do to help ourselves feel more calm and grounded.
A good place to start is to think over the last few weeks and see what you think may have caused your anxiety to flare. Then make sure you are taking care of other possible triggers too.
LOOK OUT FOR TRIGGERS AND REDUCE THEM
See if there is anything else increasing anxiety you that you can reduce in your life.
Anxiety triggers to look out for include:
Disturbing news
Caffeine
Violent, scary, or fast paced entertainment: music, movies, TV, video games.
Stress, social pressure, expectations, or confrontations
Keep a note of what you notice adds to your anxiety and see what changes you can make to reduce it's presence in your life.
PAY ATTENTION TO THINGS THAT HELP YOU FEEL SAFE AND MORE RELAXED.
For example: creative activities, yoga, walking, inspiring reading, breathing exercises, guided relaxation.
Practice focusing on whatever reduces your anxiety (even if it's only a little bit) and see what changes you can make to include more of these things in your day.
NEXT: GET BACK TO BASICS
Make sure you are being kind to yourself and practicing self-care and and adding some anxiety calming practices to your day every day.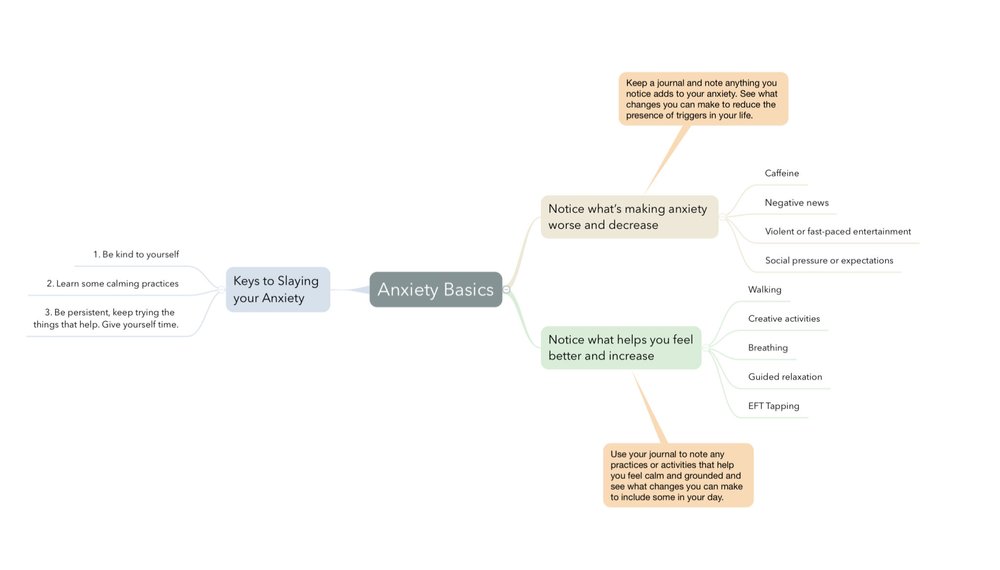 RESOURCES FROM THIS EPISODE:
Free anxiety slayer starter course