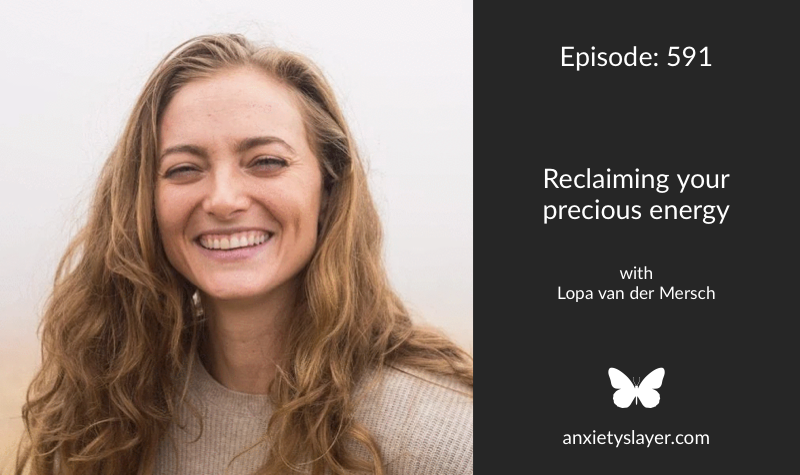 This week on the Anxiety Slayer podcast, Shann is speaking with Lopa Van der Mersch, Ayurvedic practitioner and Founder of Rasa about reclaiming our precious energy, her journey from cult member to CEO and why adaptogenic coffee alternatives help you cope with stress better.
Lopa van der Mersch is an Ayurvedic practitioner. Mother. Sustainability advocate and Recovering cult member. Her adventures have taken her around the world in search of health, spiritual fulfillment, and deep energy.
SUBSCRIBE TO THE ANXIETY SLAYER PODCAST:
APPLE PODCASTS | STITCHER | PODBEAN | GOOGLE PODCASTS | SPOTIFY I TUNEIN I AMAZON

TODAY'S ANXIETY SLAYER PODCAST IS SPONSORED BY BETTERHELP THERAPY
People don't always realize that physical symptoms like headaches, teeth-grinding and even digestive issues can be indicators of stress and anxiety.
BetterHelp is online therapy that offers video, phone, and even live chat sessions with your therapist, so you don't have to see anyone on camera if you don't want to.
It's much more affordable than in-person therapy and you can be matched with a therapist in under 48 hours. Give it a try and see why over 2 million people have used BetterHelp online therapy.
Special offer for Anxiety Slayer listeners, get 10% off your first month at http://betterhelp.com/slayer
Points covered in this episode:

What it's like to be thriving on the other side of the cult she was once tangled up in.
How Ayurveda - India's Ancient Science of Life supports people who are suffering from high levels of stress & anxiety?
Reclaiming Energy Integrity and how we often ignore our internal signals (anxiety sufferers often fixate on their internal signals with hyper-awareness that robs them of the present moment). What this means, and how we can open to energy integrity?
Practicing empathy and flexibility in place of rigidity. How people who have been through the trauma of debilitating PTSD and anxiety turn them into lessons for their future.
How the Rasa adaptogenic coffee alternative is revolutionizing people's relationship to their energy.
Adaptogens …
"They help you to freak out slower (& less intensely!), and recover faster in response to stress, all while increasing stress resilience overall."
Learn more about the adaptogenic coffee alternatives Lopa offers at Rasa and Save 15% on your first order! with the coupon code slayanxiety at wearerasa.com