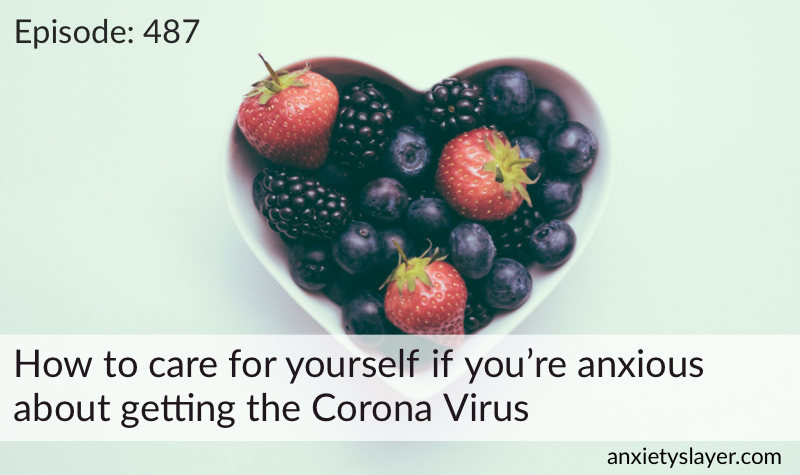 This week we're talking about how to care for yourself if you're anxious about getting the Covid-19 Novel Coronavirus.
SUBSCRIBE TO THE ANXIETY SLAYER PODCAST:
APPLE PODCASTS | STITCHER | PODBEAN | GOOGLE PLAY | SPOTIFY I TUNEIN
Points covered in this episode:
How media coverage of the Covid-19 Novel Coronavirus has taken over traditional and social media in the US and in England too.
Protect yourself from the stress of dramatic media coverage
Drama sells, it sells newspapers and it sells related products, but it also causes harm. It disturbs our peace of mind.
To the media, every new case is a story. To those living with heightened anxiety, it's a trigger.
Once we know the facts and we know how to take basic practical precautions we don't need to keep exposing ourselves to more stress and details.
To keep informed, we recommend choosing a positive and educational source of information like Dr. Lissa Rankin's website and recent article: CORONAVIRUS: What's New & An IFS Practice To Calm Scared Parts
Dr. Lissa also created a special opt-in for regular updates so you can get real-time Whole Health Medicine information on the current COVID-19 pandemic in your inbox. This is an excellent antidote to the barrage of misinformation inundating the Internet.
Get the facts from an educated source
An Internal Family Systems (IFS) Practice
How to care for yourself and your family
Wash your hands.

Eat well.

Get enough sleep.

Meditate and ground yourself daily.

Do whatever you must to relax your nervous system. (Massage, ChiGong, Shiatsu, Yoga)

Consider a good immune-boosting mushroom formula to bolster your immune system.*
*Dr. Rankin recommends Mason's Mushrooms Immune & Gut Tonic. (Shann drinks Chaga Tea)
This too shall pass
Every so often a new virus emerges that causes public concern, like avian flu in 2009, you've lived through them all so far and the chances are extremely high that you will live through this too.
Seek out positive company
Lean towards friends or family members that tend towards a calm and positive outlook. When we feel shaken we benefit from the company of those who are grounded.
Deepen your personal spiritual and self-care practices
Take a moment to reflect on the practices that help you feel sheltered in your life and make sure you are bringing at least some of those into your day.
Exposure doesn't mean infection
This is very important to understand. Not everybody who is exposed to a virus gets sick.
Whether we get sick or not depends on our immune health, and this is something we can influence.
Ayurveda & Immunity
Ananga shares the Ayurvedic "seed & land" view of immunity.
Ayurveda teaches that we have influence over our resistance to illness by caring for our immune system.
Improving the strength of our immune system, according to Ayurveda, begins with understanding our body and mind type (or dosha) and eating in harmony with our individual nature.
Different body types need different lifestyle and dietary support to function at their best when we better understand our dosha we can respond to stress and health challenges naturally with a proactive and positive spirit.
Some lifestyle routines that benefit every body type and help build immunity include:
Exercise: walking, or other moderate exercises to the point that we feel energized, but never depleted. Ayurveda recommends that we spend half our energy and keep the rest in reserve for healing, digestion and cellular repair.
Yoga: a regular yoga practice benefits the immune system. Regular is the key point, a few minutes every day is more beneficial than an hour a week.
Breathing practices: Ayurveda and yoga both teach pranayama breathing practices to bring prana - vital energy - into the body and to move that energy around the entire body, clearing stagnation and improving overall health.
Expressing emotions: speaking to others we trust or writing our thoughts and feelings help us process and release emotional pain.
Extensive research has shown that writing out our feelings can significantly improve the survival rates in serious illness.
James Pennebaker, researcher and author has repeatedly shown the healing benefit of writing about our trauma, stress and difficult stories and the positive impact writing has in aiding our immunity.
Stress and fear weaken our defenses
Feeling concerned and taking appropriate action is one thing, feeling dread when we see or hear mention of any specific illness is another.
When the mind locks us in with fear, we need to address that fear so we can care for ourselves well and enjoy greater peace of mind.
We want to work on building our defenses, and that means taking action to calm stress and anxiety.

---
Anxiety Slayer Academy Resource:
Today's episode is brought to you by The Anxiety Slayer First Responder Series for Health Anxiety
Know how to STOP your health anxiety and calm your mind.
Learn to stop anxiously fixating on symptoms and sensations in your body and how to use EFT Tapping to dissolve Health Anxiety and build peace of mind with our Guided Tapping Sessions.
The course also includes guided calming practices to ease your mind away from fearful thoughts into a peaceful state.
Plus get our new lesson on how to make your personal Bach Flower blend for calming health anxiety. So if you already have the course you can check back in and get that extra lesson.
Find out more at anxietyslayer.teachable.com and use the coupon code: health to save 25% through March.